Wednesday, February 1, 2023 / by Emman Cristobal
Yes, the Doctor of Love is in... in all of us. Our lived experience teaches us that Love truly is a Many Splendored Thing. Each love has its unique aspects. When my husband and I were planning our Wedding, our event planner suggested we reveal to all in attendance the words that best convey our LOVE for each other.
My favorite Love Description is from 1 Corinthians 13: Love is patient, love is kind. It does not envy, it does not boast, it is not proud. It is not rude, it is not self-seeking, it is not easily angered, it keeps no record of wrongs. Love does not delight in evil but rejoices with the truth. It always protects, always trusts, always hopes, and always perseveres.
Regardless of your 'religious persuasion', you may agree that the above IS a great description of Love. I am talking Love because February is widely celebrated as the Month of Love, centered on Valentine's Day.
I could go on, with all kinds of examples like "Love Your Neighbor as Thyself", "Love doing business with you", "Love your referrals", etc. The fact is, we love helping people find their next homes to love, whether it's their 1st or 5th purchase or sale. And our clients say we are great at it!
The first step in helping people find their next home to love, is finding the best Realtor to help make it happen. That's where "Love your Referrals" comes in. Know that my team and I are eager to help anyone you know who wants to make a move. In fact, we are willing to make an offer they will surely love. This Valentine's month we are offering homeowners who wish to make a move a very special gift.
OUR GUARANTEE to you, your friends, and family—
For the month of February, anyone you refer to me who is considering making a move, I will guarantee in writing that their home will sell or we will buy it at a price acceptable to them. We just need to agree on the price and possession date with the seller. This is where you can help!
There is some risk on my part in making such an incredible guarantee, but we are selling just about every home we list for market value, sometimes more, so there is no reason for any homeowner to fret about selling right now.
HAVING PEACE OF MIND AND GETTING TOP DOLLAR FOR YOUR HOME IS WHERE EXPERIENCE COUNTS!
As a result of working with over 5,000 families during my 20+ year career and through three documented recessions, we have developed a special market-proof program to quickly get an acceptable cash offer on any home at market value.
IF YOU OR A FRIEND ARE THINKING ABOUT SELLING, MAKE SURE TO CHOOSE A REAL ESTATE TEAM YOU CAN TRUST!
A real estate team with experience, proven results and a give-back philosophy! This is where you come in… If you or anyone you know is considering making a move, we would like to offer them a FREE No-Obligation-to-Sell Consultation to discuss just how they can make their move, get what they want and do it with the least amount of hassle.
Just like we are thankful for you and your business, I am confident your referrals will be thanking you for steering them in the right direction to getting their home sold!!!
AND please remember, your REFERRALS help those in need!


B Walker Ranch is on target to become a flagship property with a model program that can be duplicated in communities everywhere.
BWR, a 10.63-acre parcel, is developing a variety of programs for adults with autism designed to foster self-advocacy by recognizing their individual needs and harvesting a sense of purpose within a farm environment. When our children graduate from high school at 18 they have an opportunity to go onto the next stage of their lives. There are few next steps for those children with autism. The US has an ongoing crisis as individuals ageout of existing programs at 22, while still needing structured environments in their daily lives.
Over the decades of helping families sell or buy the place they call home we have met some of the most wonderful, loving, caring people sharing the same Go Serve Big values we do! I hope you and your family are well and this Valentines Season brings you much joy and happiness. Happy Valentine's Day!
Thank you in advance for your referrals! The best number to reach me: 925-216-7720

Thank you for reading this month's Homeward Bound and for the many referrals over the years. Rest assured when you refer family and friends they are in good hands, we treat them like our own.
Go Serve Big!!!
Leticia Almaro Nicolini
& The Almaro Team
925-216-7720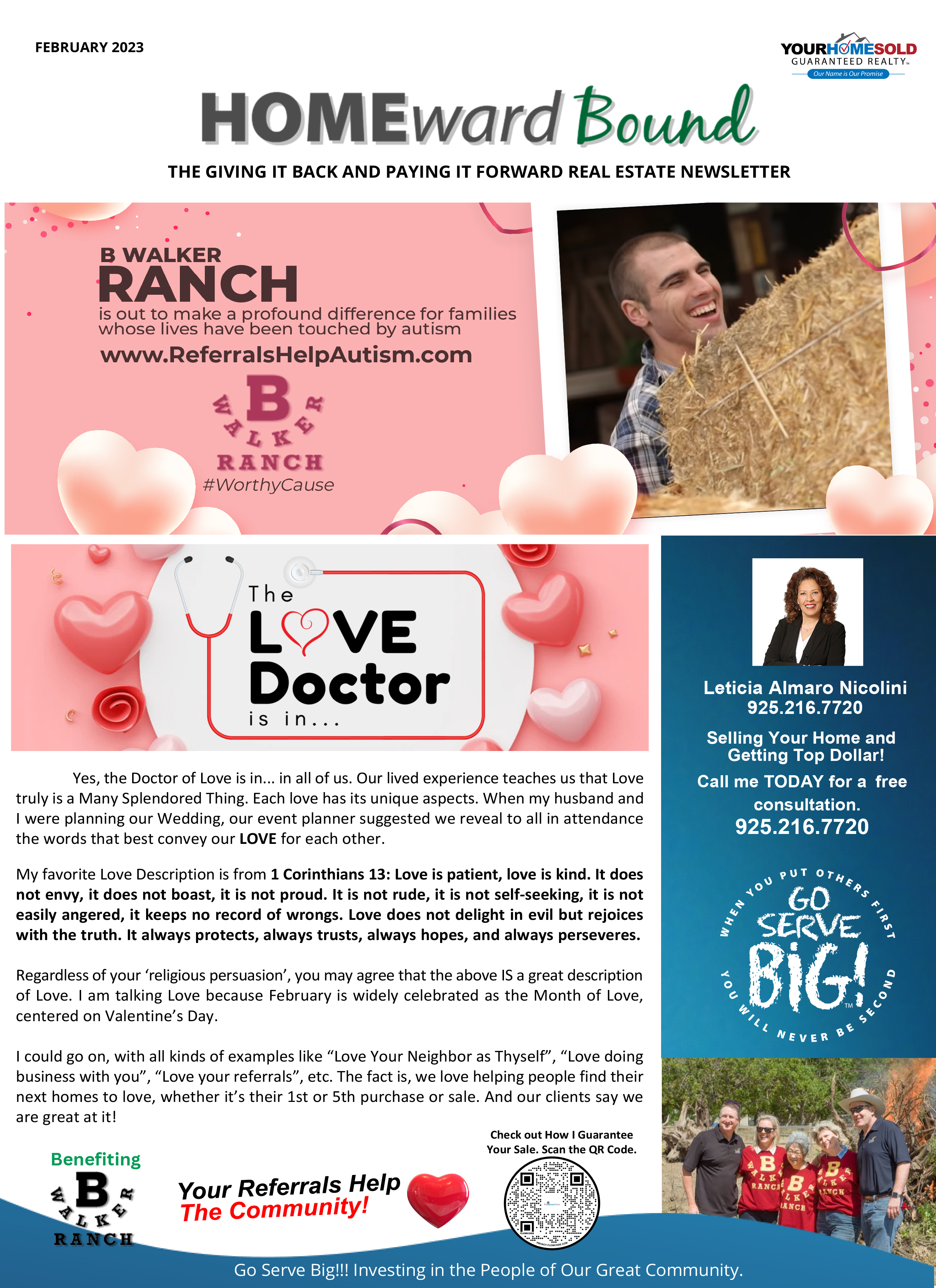 ---