Tuesday, August 1, 2023 / by Emman Cristobal
Boy.. It's hot and not just outside


You do not have to be a weather person to predict the weather this time of year. We all know... it has been one of the hottest years on record unfortunately, but fortunately for real estate, these past 3 years have been on fire, creating opportunities for both sellers and buyers alike. Sellers have been cashing in and buyers, with the advent of remote working or pivoting to new jobs, have been able to escape city life for more room and homeownership in the suburbs. So, what's the weather like right now?The market temperature is cooling, due to rising interest rates with industry experts predicting another 2 rate hikes by year's end.
What does that mean for you? It's a great time to sell and to buy, because home prices will continue to steadily rise, just not at the unprecedented rate of the past 3 years. That unprecedented rate is the only bubble and it has already burst.
2023 is a great time to invest in both single-family & multi-family real estate. If you did not get the memo, here is a special clause from the Buyer and Seller Agreements of our VIP Client Program enabling past clients to create additional wealth through real estate. VIP CLIENT PROGRAM: Seller ___ does OR ___ does not wish to participate in The Almaro Team's VIP Client Real Estate Investor Program (REIP), whereby Seller will receive notices of free real estate investor trainings and notices of real estate investment opportunities by mail, email or phone at times when investment opportunities arise. Seller may opt out of The REIP at any time. Seller is never obligated to invest in real estate. So, if you or anyone you know likes the idea of making money in real estate, please contact us right away... while these HOT investment opportunities are available. Making gains in assets and wealth are nice! I especially like it because it allows me the opportunity to GIVE more. How about you? As you probably know, we donate a portion of our income to some AMAZING worthy causes! Like B Walker Ranch, one of the area's leading nonprofits.
YOUR REFERRALS HELP THE COMMUNITY! Keep them coming
OUR GUARANTEE to you, your friends, and family—
In the month of June, for anyone you refer to me who is considering making a move, I will guarantee in writing that their home will sell or we will buy it at a price acceptable to them. We just need to agree on the price and possession date with the seller. This is where you can help!
There is some risk on my part in making such an incredible guarantee, but we are selling just about every home we list for market value, sometimes more, so there is no reason for any homeowner to fret about selling right now.
HAVING PEACE OF MIND AND GETTING TOP DOLLAR FOR YOUR HOME IS WHERE EXPERIENCE COUNTS!
As a result of working with over 5,000 families during my 20+ year career and through three documented recessions, we have developed a special market proof program to quickly get an acceptable cash offer on any home at market value.
IF YOU OR A FRIEND ARE THINKING ABOUT SELLING, MAKE SURE TO CHOOSE A REAL ESTATE TEAM YOU CAN TRUST!
A real estate team with experience, proven results and a give-back philosophy!

This is where you come in… If you or anyone you know is considering making a move, we would like to offer them a FREE No-Obligation-to-Sell Consultation to discuss just how they can make their move, get what they want and do it with the least amount of hassle.
Just like we are thankful for you and your business, I am confident your referrals will be thanking you for steering them in the right direction to getting their home sold!!!
AND please remember, your REFERRALS help those in need!
A Real Estate Team that Gives Back
Go Serve Big!!!
Leticia Almaro Nicolini
& The Almaro Team
925-216-7720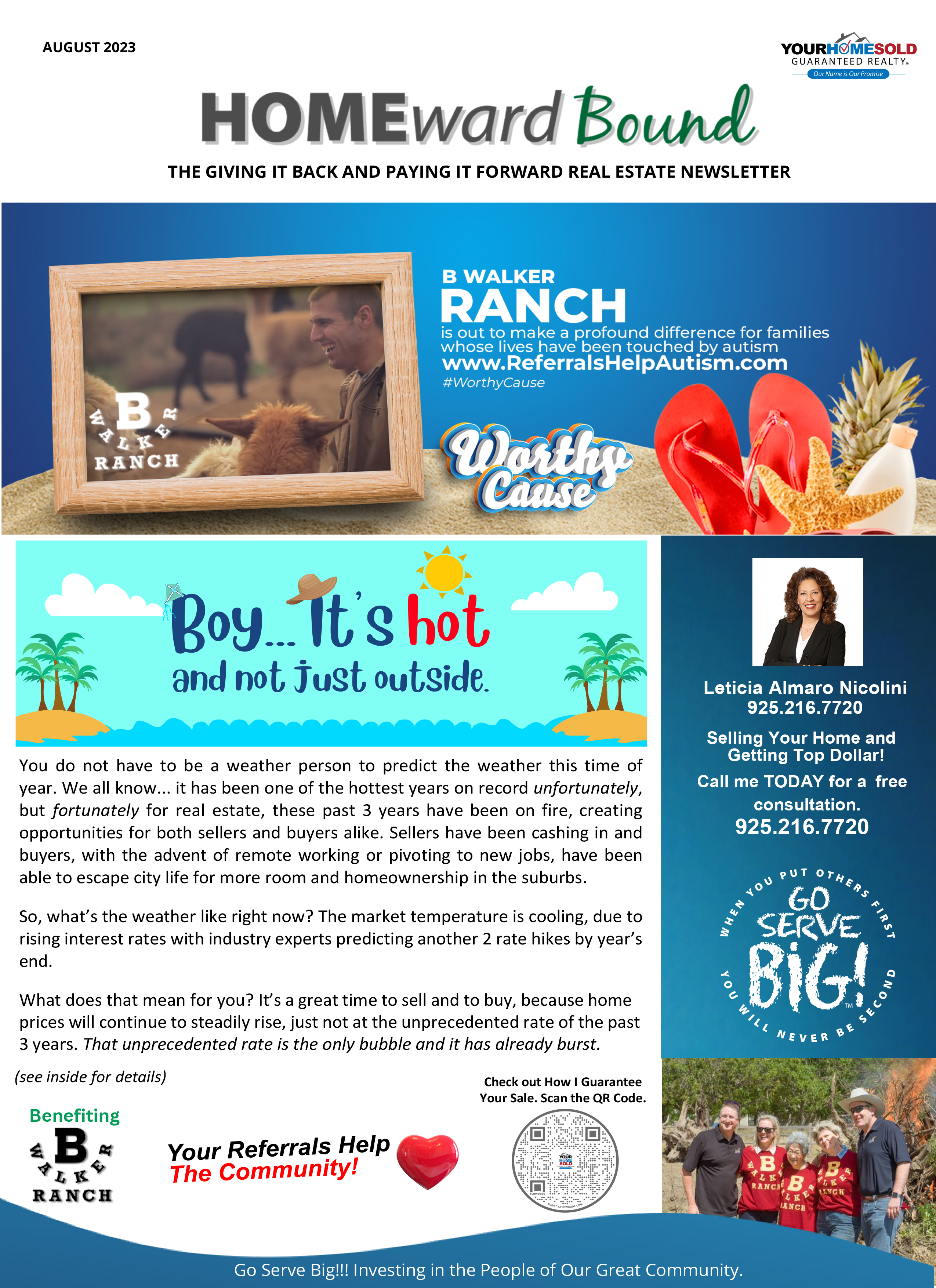 ---